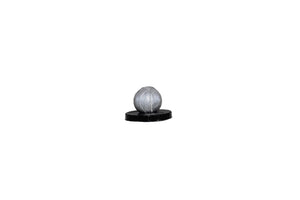 9mm Motion Capture Marker
9mm Hard MoCap Solutions Marker with a Hard Base
Solid Marker
Plastic Hard Base
No Adhesive
Sold in Packages of 10
The most revolutionary design in motion capture history is MoCap Solution's X-marker. Our X-markers are molded with an integrated base. This very thin square base can be configured to any shape after it's been molded. This allows markers to be customized for their locations on the subject, the type of captures, for anything!
Our x-marker can be built with Velcro bonded directly to them or without Velcro if direct skin contact is required. They are made from medical grade polymer (latex free) and are safe for medical applications. Also check out our skin patches!
As mentioned above, the X-markers are molded as a single piece, there are no fasteners or glues to break or come loose in the middle of a session. We can appreciate the fact that a broken marker can ruin the perfect capture. The X-base design gives the Velcro  maximum grip and holding strength on a motion capture suit. The legs of the x-base can be wrapped around a subject's wrist, their fingers, all the tough places that you want a marker placed. The X-marker bases can be cut easily with a pair of scissors right on set if you need an even more custom fit. When used in conjunction with a MoCap Solutions motion capture suit, these markers simply DO NOT come off during a take! In fact, compared to markers that you may have used in the past, you will have to change the way you remove them at the end of the day.  Trust us, the quality of our motion capture suit, markers and accessories easily surpass the competition. Get your MoCap Solutions motion capture gear today! Click the link to check out all of our mocap products.