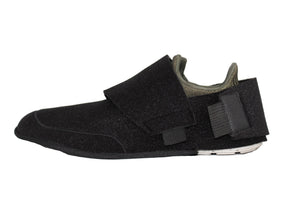 MoCap Solutions Motion Capture Booties 
Motion Capture Foot Wraps (Booties)
Velcro friendly shoe wraps

Can be worn over shoes

Allowing MoCap Solutions Markers to be mounted to the feet.

Available in S, M, L

Small fits shoe size 6-8

Medium fits shoe size 9-12

Large fits shoe size 13+
MoCap Solutions Equipment and Accessories
MoCap Solutions is the premier manufacturer and supplier of all motion capture suits, markers, equipment and accessories. Our custom new revolutionized performance capture suits are unlike any other. We have completely reinvented the fabric making it more reliable for data tracking and more comfortable for the wearer. We spent two years developing the suit fabric and it is nothing short of perfection. Along with the perfect suit, Mocap Solutions can provide you needed accessories:
Motion Capture Gloves
Motion Capture Booties

/

Foot Wraps
Motion Capture Beanies
Neon Identifiers/Actor Identifiers
EZ Patch Velcro backed neoprene patch
Adjustment straps for motion capture suit
Micopore tape "paper tape"
Double sided tape "medical grade tape"
Gaffers Tape
Skinz Patch
MoCap Solutions can provide all the necessary mocap equipment and accessories needed to ensure that the perfect shoot is captured. All our equipment and accessories work hand in hand with the most sophisticated capture system and most up-to-date technology.